'No Sleep' and George Clooney: Dutch Royals Flock To Theatres Three Days In A Row
The Dutch theatres were a popular desitation for their country's royals this week. Last night Princess Beatrix visited the opening night of the Holland Dance Festival in The Hague. The former monarch was accompanied by her youngest son Constantijn and his wife Laurentien, who conveniently are living in The Hague themselves. Princess Laurentien repeated a Missoni dress from 2013. Princess Beatrix wore a black outfit and a brooch from the Indonesian gold & diamond demi-parure.
Dutch royals pose for the cameras
A day earlier Dutch Queen Máxima visited the opening film of the International Rotterdam Film Festival (IRFF). The Queen arrived at movie theatre De Doelen in a 70s-inspired pant suit by Etro. The Opening film of this 45th edition of the IIRC was the movie 'No Sleep', based on the novel of Willem Frederik Hermans. According to the local press -who labelled the outfit euphemistically as 'daring'-  you can dress like a queen for the price of € 1225,-.
Arrival of Queen Máxima
Tuesday evening saw most royals out and about: Princess Mabel, Prince Constantijn, Princess Laurentien, Princess Mariléne Prince Pieter-Christiaan, Princess Anita and the pregnant Princess Viktória of Bourbon-Parma all went to Carré Theatre in the heart of Amsterdam to see George Clooney and to attend the 'Good Money' gala of a lottery. Click here for photos.
The American film actor was in Amsterdam to receive a donation from a lottery for his cause in Sudan. The lottery distributed a total sum of € 327 million to various charities and people. Before the programme started, Clooney talked to Princess Mabel about the project 'GirlsNotBrides' and the problems of child marriages and wars. The princess told RTL that she was impressed by the movie star.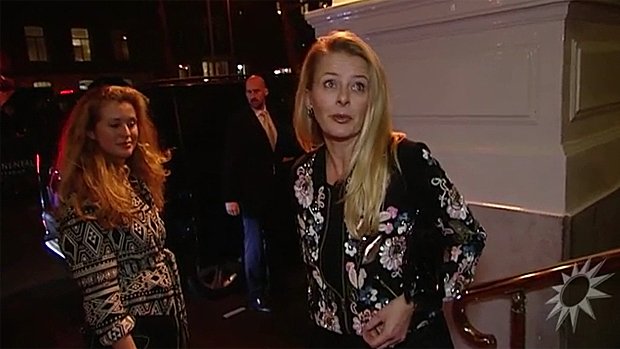 Screencap of Princess Mabel at Carré, accompanied by her friend Willemijn Verloop.
Filed under Italy, The Netherlands
Tagged Film Festival, House of Bourbon-Parma, Prince Constantijn of the Netherlands, Prince Pieter-Christiaan of Orange-Nassau, Princess Anita of Orange-Nassau, Princess Beatrix of the Netherlands, Princess Laurentien of the Netherlands, Princess Mabel of Orange-Nassau, Princess Marilène of Orange-Nassau, Princess Viktória of Bourbon-Parma, Queen Máxima of the Netherlands, Theatre.
One Response to 'No Sleep' and George Clooney: Dutch Royals Flock To Theatres Three Days In A Row